Reminder – if you would like to read this with the links to the various listings, I can only email them to you now with our new MLS which I'll be glad to do. Just let me know by sending me a request to [email protected] and I'll set you up to receive my blog post with the links each week.

It was a short week with Christmas falling on Tuesday – I hope Santa took good care of you!  He brought us two closings but no new contracts.  Sellers added two new listings and changed prices on two others. Our inventory inched up by two, closing the week at 238, with 59 homes and 179 lots listed for sale in the Cape San Blas, Indian Pass and C-30 Corridor MLS market. Let's see what Santa delivered.
The first of our two sales is this gorgeous 117′ by 330′ gulf front lot that's a bit shy of an acre located just south of Coneheads. When the sellers bought it in 2005 it had a lovely home on it and their purchase price was $1.4M.  The house burned down some years later and they were left with the lot alone which they had listed for $795,000. It's a beautiful piece of property and this week it went for $665,000, or $5,684 per waterfront foot.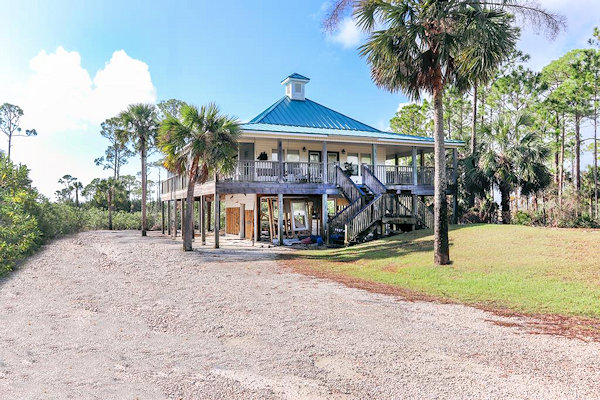 We'll travel off the Cape and out onto C-30 past Indian Pass Raw Bar to our second sale which is this 2-bedroom, 2-bath, 1,168 square foot lagoon-front home listed for $284,900. The sellers bought the lot in 2001 for $55,000 and built the home two years later. This one was originally scheduled to close in late January, but they moved that up and closed on the 27th, with the buyer using conventional financing and paying $245,000.
Well, that was quick.  Next week will probably be quiet as well with New Year's Day on Tuesday, but I think after that we should start getting back to business and start picking up a bit again. So now's a good tme to start planning for the new year. Because of Hurricane Michael, existing homes are in high demand, so if you own a house here and have been thinking of selling, by all means give me a call and I'll help you determine what you might be able to sell for now, even if you're still dealing with storm recovery. Call or text me at 850-227-5197 or send an email to [email protected] .  I wish you a healthy and Happy New Year, and look forward to hearing from you soon. Have fun welcoming 2019 and stay safe.