Everything takes longer after Michael. Everything. For example, I held an Open House this week and of the Realtors who came through, over half are still displaced. These independent contractors are working full time living out of suitcases, juggling appointments with clients, prospects, insurance adjusters, contractors, bankers, roofers and myriad other players trying to earn a living while also struggling to get their own homes repaired or rebuilt during what is now the new normal day here. A pre-Michael business call that would have wrapped up in five or ten minutes now regularly stretches to 30 or more as callers fill each other in on where they are with their storm repairs. A commute that should take ten minutes easily stretches to 30 while traffic is stopped to allow for road repairs or line crews, or while slowing to a crawl to drive through patches of extremely rough damaged road surfaces. I mention these things only because in light of all this, it's a testament to the dedication and professionalism of our local Realtor community that any business at all is taking place, and yet it is.
In the past week we had one closing, and five new contracts. Seventeen new 'For Sale' signs went up, but sellers only adjusted three prices. Our inventory grew by seven, closing the week at 227, with 61 homes and 166 lots listed for sale in the Cape San Blas, Indian Pass and C-30 Corridor MLS market. Let's see what properties are attracting attention.
Our one and only sale is in Treasure Shores, where the parties went to closing on this 4-bedroom, 3-bath, 1,978 square foot circa-1997 gulf front home. It was damaged by Michael and the sellers put it on the market on November 17 asking $649,500. According to the MLS, "Owners have installed two new A/C units and are in process of repairing windows, stairs and landscaping. Roof needs repair. FEMA insurance is available. Pre-Hurricane Michael revenue was over $43,000 through September, 2018". The sellers bought the house in December 2003 for $941,000 and sold it on Friday for $525,000, with the buyers reportedly using conventional financing.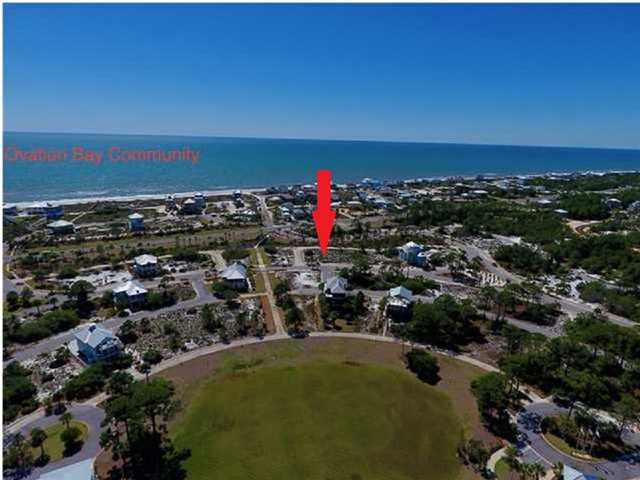 The first of our five new contracts is on a bay view lot in Ovation towards the north end of the Cape. The sellers bought this 105′ by 50′, 0.11 acre property in late 2013 in a bank-owned sale for $27,000. On Wednesday they put it under contract with a list price of $39,900.
Our second new contract may seem familiar as we looked at it previously when it went under contract in mid-November. That contract didn't work out, and it came back on the market on January 7. This is a 4-bedroom, 3-bath 2,475 square foot home on a 50? wide gulf front lot on Clifton Place near Scallop Cove, originally listed for $998,000, but that price was dropped to $599,000 on January 4 after the first contract failed. According to the MLS notes, the house sustained "some wind and water damage, drywall being removed, treated for mold and will be ready to repair! Roof, pilings no damage". The photo above is pre-storm. The sellers bought the house in 2010 as a bank-owned sale for $410,000.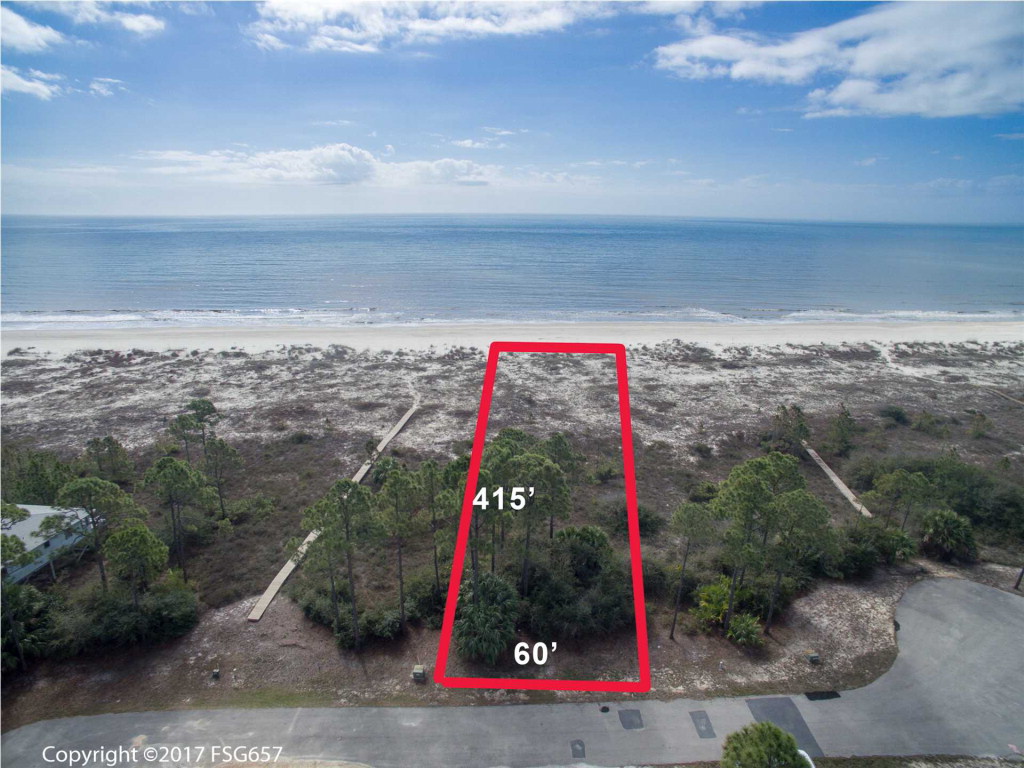 We'll turn right off of Cape San Blas Road and head over to Curve at the Cape, the first subdivision on your right after leaving the Cape. Here buyers were attracted to this 60′ wide gulf front lot currently listed for $259,000. The sellers bought the property in 2016 for $250,000, a far cry from the $650,000 it commanded back in the summer of 2004. It was originally listed in September of last year for $294,000, but they dropped the price on October 2 to $278,000 and immediately went under contract. After Michael hit the following week, that deal headed south and it came back on the market with its current list price of $259,000.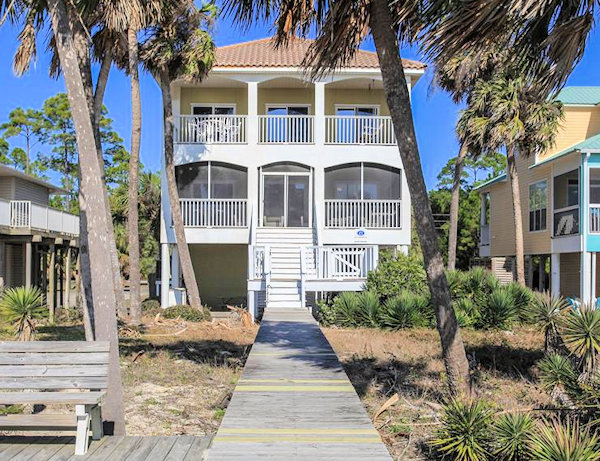 Not far down the beach our fourth contract is on this 3-bedroom, 2-1/2-bath, 2,160 square foot gulf front vacation rental home with an in-ground pool that was listed on October 3 for $849,000, exactly one week before Michael. It suffered a fair amount of storm damage such as the enclosed ground level area being washed away and roof damage, which will need to be fixed by roofing companies (click here now for one example), and on the first of December the seller changed the asking price to $699,000 "As Is". The next owner would clearly have to have some storm damage repair completed on the house to get it back in good working order. That attracted a buyer shortly thereafter and it went under contract, but the deal fell apart and it came back on the market on December 22. Hopefully, the next owner of this home will be able to improve it. The storm really has decreased the value of this home, but it's nothing that can't be fixed. The damage caused to the roof of the home can easily be repaired by finding a residential roofing contractor in the area to take a look at the roof and advise the best course of action to make the house safe again. For other damage, it can probably be fixed by finding the appropriate contractor to fix the problem. It's a shame to see such a beautiful home in this state. Everything you could possibly think of needed replacing, and this even included the front door. The storm was that strong, that it almost broke the door down, so deciding to replace them with High-Velocity Hurricane Zone (HVHZ) Impact Doors, that you can find at places similar to Plastpro, will be in the best interests of the next owners. Knowing that this is a place susceptible to storms, installing doors that can withhold this pressure can help to prevent any further damage. No one wants to see a house like this in the state it's in. This home was built in 1998, and the seller bought it in the summer of 2004 for $1.625M. This week it went under contract again with that same "As Is" list price of $699,000.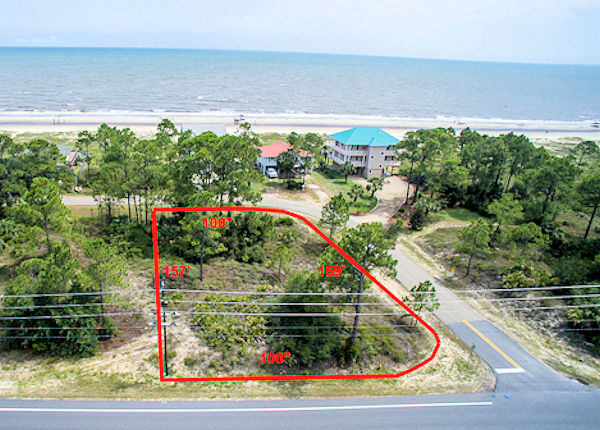 Our fifth and final new contract is on this third-of-an-acre, first tier corner lot in Treasure Shores with awesome gulf views. The sellers bought it way back in 1997 for $32,500 – those were the days! It's FEMA eligible and this subdivision has no HOA fees – sweet. It has been on the market since July, and is scheduled to close by early March.
And that does it for today. Good to see continued interest – the phones are ringing and email inquiries are up now that we're into the new year as I has hoped and anticipated would be the case. As I said last week, demand for exiting homes is especially strong, so if you're considering possibly selling, let me know and I'll work out an estimate of current value for you. Because there are so few houses available for sale, demand for lots is not lagging far behind, especially for those buyers whose intent is to buy and hold for long term investment and for whom the current building wait times is not a concern. Either case, call or text me at 850-227-5197 or drop a note to [email protected] and let's take a look at it.
Reminder – if you would like to read this with the links to the various listings, I can only email them to you now with our new MLS which I'll be glad to do. Just let me know by sending me a request to [email protected] and I'll set you up to receive my blog post with the links each week.
Thanks for all of your support and encouragement – it means a lot, and thanks, too, for taking time to stop by today. Much appreciated. Have a great week and hope to hear from you soon!