We locals were all happy this week to have the roadway through Simmons Bayou re-open so we could say good-bye to the dreaded detour through Country Club Road, and the road repairs along Constitution Ave./Hwy. 98 being completed so the irritating temporary stoplights in Port St. Joe that have plagued us throughout that project were finally removed.  The work through Stumphole continues to impress – FDOT is really beefing up that stretch this go round. Our real estate market continues to impress as well, with two sales and five new contracts. Sellers added five new listings and made price adjustments on two others. Our inventory took a healthy dip, closing the week down by three at 233, with 61 homes and 172 lots listed for sale in the Cape San Blas, Indian Pass an C-30 Corridor MLS market.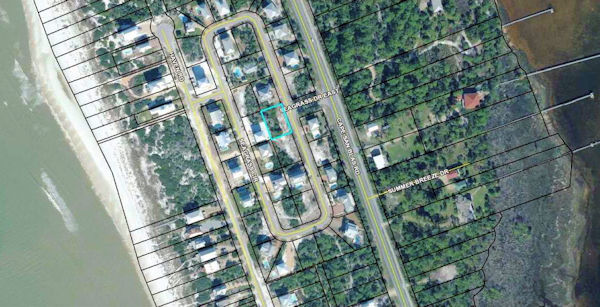 The first of our two sales is a fourth tier, gulf view lot in Seagrass listed for $149,000. The owners acquired the 88′ by 124′, quarter-acre property in mid-2013 as a bank-owned sale for $72,500.  Prior to that, it sold in early 2005 for a whopping $435,000.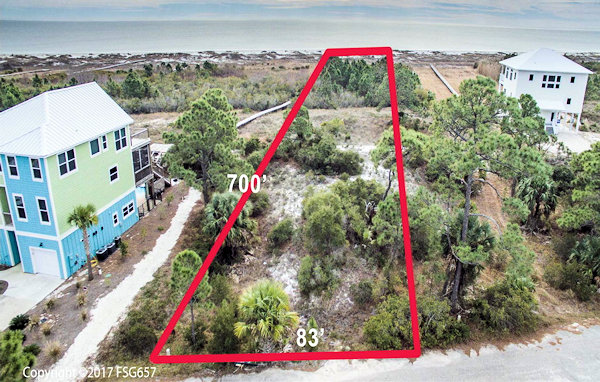 Our second sale takes us down on the south side of the Cape in San Blas Plantation to Sanddollar Drive to this 85′ by 722′, 1.22-acre gulf front lot listed for a steal at $289,000. That's a far cry from the $84,000 the seller paid for it way back in 1988. According to my handy dandy inflation calculator, in today's inflation-adjusted dollars that's equivalent to $186,791.34. On Friday the parties went to the closing table with the new owner taking title for $275,000 cash, or $3,235 per waterfront foot. Contrast that with the last five gulf front lot sales on the north end of the peninsula that averaged roughly $8,800 per waterfront foot, with 2 of those sales coming in at $10,000/wff or above.
We'll stay on the south side of the Cape for the first of our five new contracts which is on this irregularly shaped quarter-acre bay view lot in Eventide. This neighborhood is directly across the street from San Blas Plantation, and the two have reciprocal agreements for the property owners to each other's deeded waterfront access; San Blas Plantation grants gulf access for Eventide owners, and Eventide owners grant San Blas Plantation owners bay front access. Bit of an unusual situation here in that the owner of this lot has it listed for $40,000, which is exactly what he bought it for in mid-2002.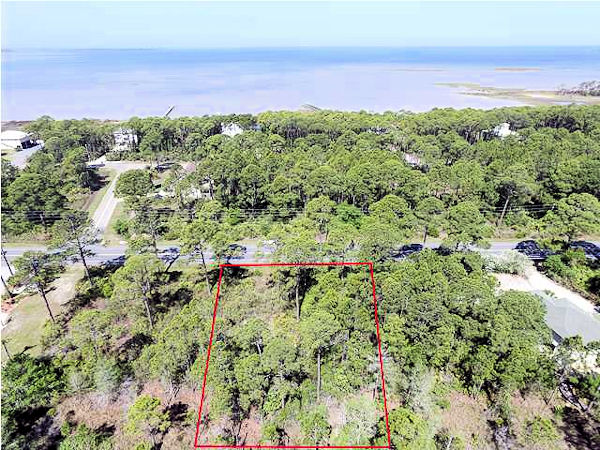 Contract number two is on a bay view lot in Treasure Bay on the east side of C-30. The half-acre lot is in an AE flood plane and measures 103′ by 217′. The seller bought it at the height of the real estate boom in 2004 for $120,000, and has it listed for $29,500.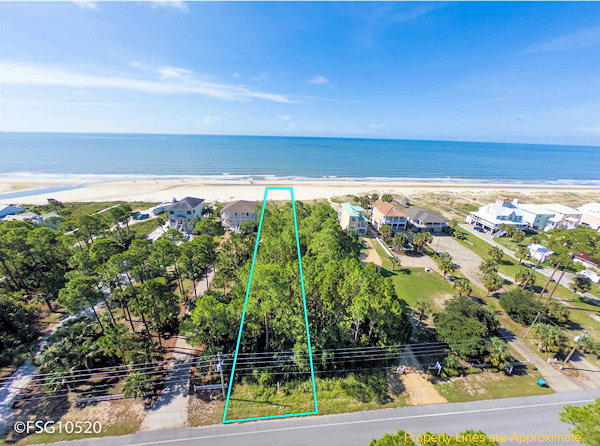 We'll circle back on C-30 heading out towards Indian Pass Raw Bar for our third contract which is on this 50′ by 577′, 0.66-acre AE flood plane gulf front lot listed for $299,000.  According to records on the County Clerk's site, the seller bought this lot in 2005 for $1,207,500. I checked the warranty deed to make sure that wasn't a multi-parcel sale but no, the deed warrants only this piece of land.  Wow.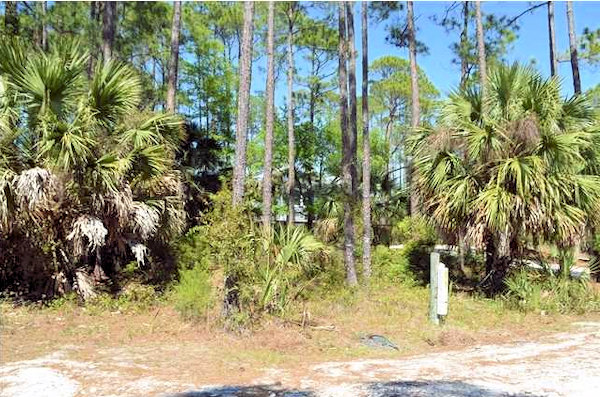 Let's travel on over to Indian Pass for our final two new contracts, kicking off with this 90′ by 340′, 0.7-acre canal front lot on Painted Pony Road in Indian Summer. This pretty little Old Florida beach neighborhood has a totally laid back vibe and sits tucked away on the gulf at the full curve on Indian Pass Road. All properties convey with deeded gulf access, and there is a pretty community pool overlooking the Gulf. The seller bought this lot just last year in January 2018 for $102,000, and has it listed for $98,000. Plans change sometimes, I guess.
Our fifth and final new contract is out towards the tip of the Indian Pass peninsula on Neptune Street in Indian Pass Beach subdivision, the majority of which was platted and recorded in 1952. The seller just listed the lot earlier this month on February 13 for $99,000. It last sold in late 2002 for $80,000
Housing remains in critical demand locally, so if you have a house, townhouse or condo you've been considering selling, now is a good time to run the numbers, even if it sustained hurricane damage. We can make adjustments for that, so let's talk.  I can help you with no charge or obligation. You can always reach me by calling or texting 850-227-5197 or emailing [email protected]. Hope to hear from you soon, and, as always, I thank you so very much for taking time out of your busy schedule to stop by today.
Reminder – if you would like to read this with the links to the various listings, I can only email them to you now with our new MLS which I'll be glad to do. Just let me know by sending me a request to [email protected] and I'll set you up to receive my blog post with the links each week.