This was an historic week for Cape San Blas and Gulf County as we finally won the first round of a 37-year battle to extricate ourselves from the Coastal Barrier Resource Act, CBRA, designation. On Wednesday afternoon, the president signed legislation passed by the House and Senate removing 40 acres of the Cape from CBRA. The area includes Cape Breezes subdivision and Rish Park. This establishes precedent that will allow the county to move forward with a sound argument for seeking removal of the roughly 900 remaining acres of the vicinity from the federal designation that prohibits any sort of FEMA funding for properties within those areas. This has been a bipartisan effort of regional representatives and highly engaged local citizens for nearly four decades and it is so gratifying to finally see some progress.
Our inventory is at an historic point as well, at least for the twelve years I've been writing this blog. When I first started writing this in the summer of 2007, our inventory stood at 552, with 200 homes and 352 lots listed for sale. Nothing was moving. We ended this week at the lowest level since then, down two from last week, closing at 231 total, with 51 homes and 180 lots listed for sale in the Cape San Blas, Indian Pass and C-30 Corridor MLS market. Properties are moving. We closed three sales and wrote contracts on five others. We put For Sale signs on ten new listings, and changed prices on five others. Let's see what buyers are snapping up.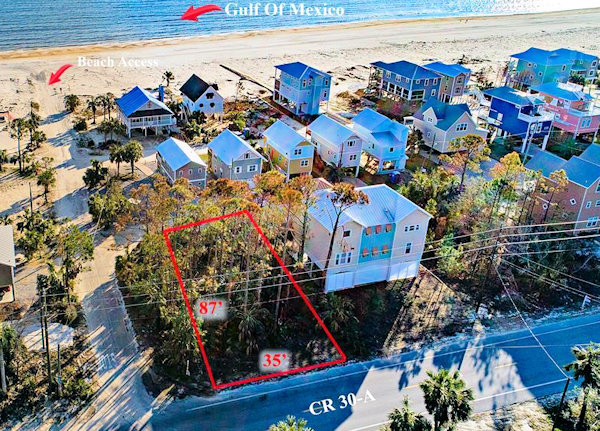 Oddly enough, none of this week's three sales were on the Cape. The first two are out along the C-30 Corridor, starting in Money Bayou, a pleasant little old Florida neighborhood with no HOA or HOA fees.  This miniscule 35′ by 80′, 0.064-acre, second tier AE lot first went under contract on February 8. That one didn't work out and it re-entered the MLS four days later on February 12.  It went back under contract on February 27 with a list price of $89,000, and on Monday the new owners took title for $85,000.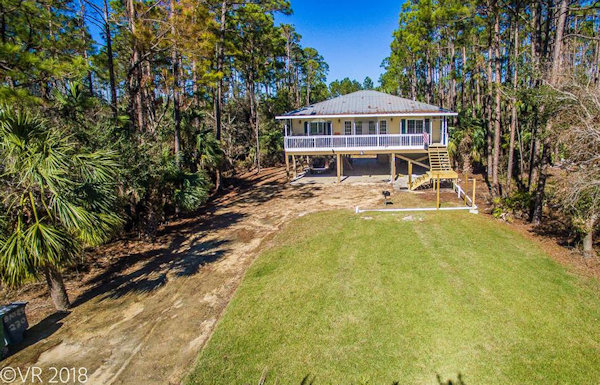 We'll continue traveling east along C-30 towards the Indian Pass Raw bar stopping at Treasure Shores where this 3-bedroom, 2-bath, 1,469 square foot gulf view home on a little over half an acre on the north side of C-30 went under contract the last week of January with a list price of $335,000. The home sustained some damage from Michael, most of which has already been repaired. The seller bought the place in early 2004 for $290,000 and handed over the keys to the new owners on Monday for full list of $335,000.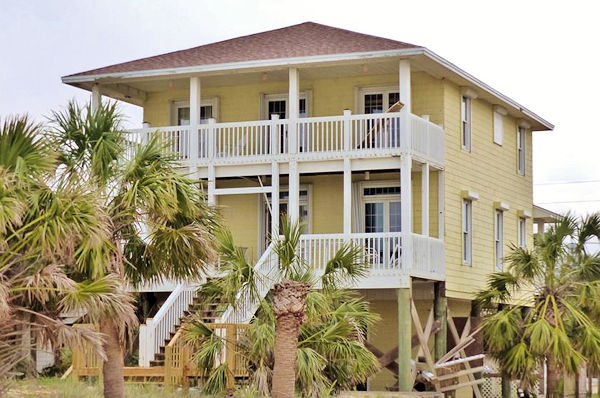 Our third sale is one of those post-Michael fixer-uppers with an alluring price that buyers are jumping on. This one is out on Indian Pass; it's a 4-bedroom, 2-1/2-bath home on a 50′ gulf front lot listed less than 3 weeks ago for $550,000. There's  a new roof and is being sold "As Is". As you can see in the photos, it still needs some work and is being sold primarily unfurnished. The seller bought it in 2004 for $1,083,500, had it listed for $550,000, received multiple bids, and sold it on Friday for $575,000.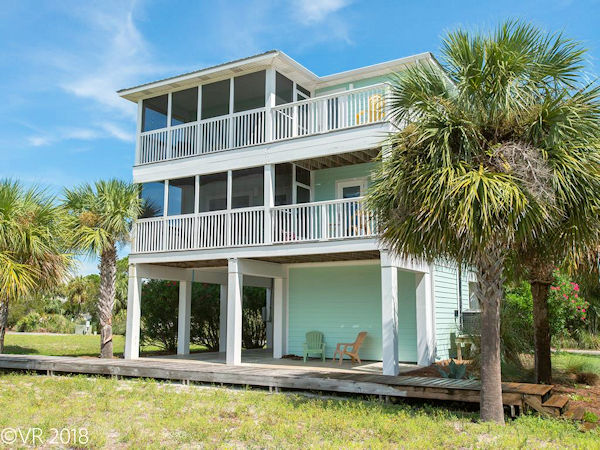 Now onto our five new contracts, heading to the Cape for the first time today, up on the north side in Barrier Dunes to one of just a handful of single family homes in that subdivision of primarily townhomes. This 3-bedroom, 3-bath, 1,994 square foot rental home went under contract last weekend with a list price of $419,000. The sellers bought the lot on which it's situated in late 2009 for $85,000, and built the house the following year. Since then it has been a successful rental property, and is being sold turn-key.
A couple of a miles south of Barrier Dunes in Feather Sound on Catamaran Drive our second contract is on a 3-bedroom, 3-1/2-bath, 2,427 square foot home with an elevator and both bay and gulf views. Feather Sound is a classic old Florida, laid back neighborhood with no HOA or HOA fees, and dolomite streets leading straight down to the beach access. This home last sold in mid-2013 for $350,000, and is being sold turn-key with a list price of $589,900.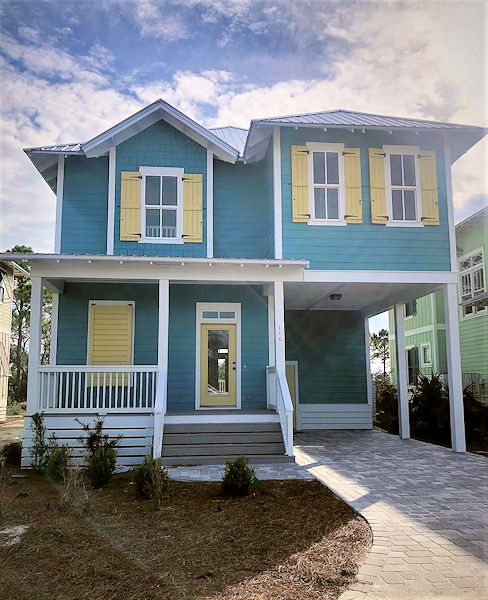 Our third new contract takes us to the south side of the Cape in Jubilation where this newly-built 4-bedroom, 3-1/2-bath, 2,490 square foot home went under contract on Tuesday with a list price of $569,900. The builder bought the 50′ by 80′, 0.10-acre X-zone lot in August 2017 for $56,800.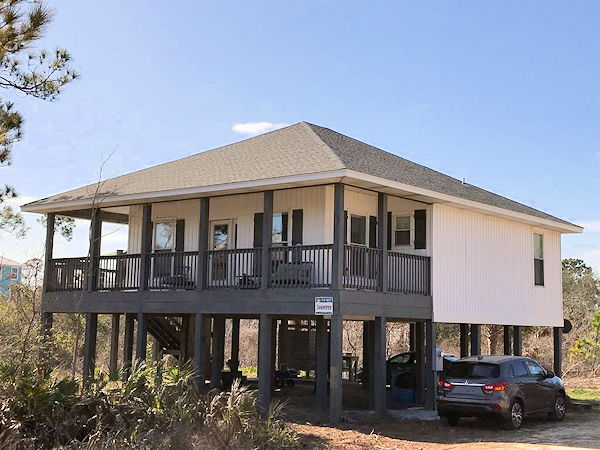 About a quarter of a mile down the road in Piney Woods on McCosh Mill Lane, sellers accepted an offer on their 3-bedroom, 2-bath, 1,224 square foot gulf view home listed for $419,000. They bought it in early 2017 for $370,000, and since our new MLS doesn't always carry over photos from past listings, I can't determine what, if any, improvements they've made to the house in either upgrades or furnishings since then.
We'll wrap things up today back out on C-30 where this 62′ wide, 654′ deep, 0.74-acre gulf front lot went under contract with a list price of $319,000. This is a FEMA eligible area. The sellers bought it back near the height of the market in mid-2003 for $450,000.
And that brings us up to date. As a Cape resident, it's comforting to see continued interest in our area, not just with real estate, but with the visitors returning as well. So many young spring breakers have been here this past week; they're good kids enjoying our beaches and bay; some also volunteering to help with recovery efforts which is amazing when they could just be relaxing during some well-deserved time off from their studies. Makes me happy to see them out riding bikes, kayaking, hanging out eating ice cream treats together taking selfies, and laying out on the beach.
If you've been considering buying or selling here, I'd love to help you. It's never too early to start, so even if you're still in the very early exploration phase of maybe in the next year or so we might want to explore this crazy idea, let me know.  Call or text me at 850-227-5197 or send me an email to [email protected]. Have a terrific week, and thanks so much for stopping by today.
Reminder – if you would like to read this with the links to the various listings, I can only email them to you now with our new MLS which I'll be glad to do. Just let me know by sending me a request to [email protected] and I'll set you up to receive my blog post with the links each week.