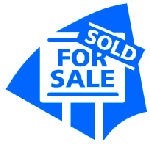 Hello readers and thanks for checking in with the Cape San Blas weekly real estate blog.  Unlike the blistering temperatures across the panhandle and southeast, our new activity has cooled off a bit this week relative to previous weeks.  Meanwhile mortgage rates have continued to surge and are now past 6% for most loans, with the average rate for a 30 yr fixed home loan being the highest we've seen since 2008.  We're still seeing plenty of cash buyers in our market, so it's easy to feel like we're a little more insulated as a popular, second home destination with expected continued growth.  Most local real estate agents and title companies will admit, however, that things have slowed down a bit in the past few weeks, so we'll continue to watch and take note of our inventory levels and new activity every week.  Let's start this week's review by taking a closer look at the 13 recorded sales (7 residential, 6 lots) from Cape San Blas, Indian Pass and the CR/SR 30-A corridor from the past 7 days:
It was a busy week for recorded sales, but the new contracts in our comparative market are down this week with only 2 new residential contracts and 2 new vacant land contracts executed by buyers and sellers.  There were also 3 cancelled contracts in the past 7 days, all 3 residential properties which were previously under contract and are now back on the active market.  We can report 4 price reductions this week, along with 1 expired vacant land listing.
This brings us to our new listings for Cape San Blas, Indian Pass and the CR/SR 30-A corridor since the previous blog update.  In the past week, we've seen 15 new listings, which consists of 7 new residential listings coming on the active market and 8 new vacant lot listings joining suit.  There are currently 48 residential properties listed for sale in our comparative market, to go along with 93 vacant lots listed for sale.  That's all we have for this week's real estate update, thanks again for checking in and let me know anytime I can be of service – [email protected] or (850)899-8765.
It's the third weekend of the month, so the Salt Air Farmers' Market is happening at the Port St. Joe City Commons on Saturday the 18th.  Also the Sea Urchin Roundup was rescheduled from last month due to weather, this Saturday is the new date at the boat ramp at Frank Pate Park from 8-5 pm EST.  I hope all the dads out there have a great Father's Day weekend!