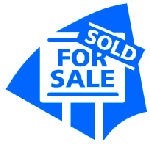 Hello readers – I hope everyone is staying as cool as possible these days, as the summer solstice and the longest day of the year have come and gone this week, and we're fast approaching the end of June already.  We don't have near the volume of recorded sales this week compared to last week, and quite a few more new listings to go along with a few more new contracts to report as well.  As usual, we'll start with a review of the 5 recorded sales within the past week from Cape San Blas, Indian Pass and the CR/SR 30-A corridor:
There was a slight uptick in new activity in the past 7 days for our comparative market as there were a total of 6 new contracts written, consisting of 5 new residential contracts and 1 new vacant land contract executed between buyers and sellers.  We also can report 11 price reductions (5 residential and 6 vacant land) to go along with 2 expired listings no longer on the active market.  There were also 2 more cancelled contracts this week, both properties are back on the market as active listings.
A total of 13 new listings were added to our inventory this week, as 11 residential properties hit the market (1 already under contract) and 2 new vacant lot listings joined the party.  That's two weeks in a row when our new listings and price reductions have far outnumbered our new contracts, as our inventory continues to grow.  Total inventory for all of Cape San Blas, Indian Pass and the CR/SR 30-A corridor now sits at 53 residential properties on the market, and 94 vacant lots for sale.  That's a wrap for this week, thanks as always for checking in and let me know anytime I can help – [email protected] or (850)899-8765.
A reminder for everyone interested, the annual meeting for the Gulf County Coastal Community Association is happening this Saturday, June 25th from 10-12 EST at the St. Joseph Bay Country Club (possible live stream on Facebook page depending on internet reliability).  Important topics to be discussed include plans for Indian Pass Rd, what to expect with your property taxes, erosion on the Cape and offshore underwater barrier reefs timelines, plans for Salinas Park, new cell tower on the peninsula, and plans to improve broadband in the county.  Have a great weekend everyone!