It's already the last full week of January, and the weather has cooled off at the beach as our market conditions have remained consistent for the past few weeks.  This month we've seen a limited number of sales recorded thanks to a slower December (8 total sales, 4 homes & 4 lots), and a decent number of new contracts executed (18 total so far, 10 homes & 8 lots).  We'll start this update with a review of the one and only recorded sale from all of Cape San Blas, Indian Pass and the CR/SR 30-A corridor in the past 7 days.
Lot 4 Stillwater Way – This vacant lot off the north side of the CR 30-A corridor near the Gulf and Franklin county line is an RV-friendly property in the AE flood zone.  The half acre parcel measures 80′ wide, and was on the market for only 8 days with a price tag of $69,000 before going under contract in December.  This lot just sold for $65,000 cash, which is a nice return for the sellers who purchased as a bank-owned property in 2010 for $14,900.
There were 6 new contracts signed by buyers and sellers this past week, 4 were vacant lot contracts and 2 were new residential contracts.  There were also 3 listings which expired in the past 7 days, and 1 more withdrawn from the active market.  4 sellers lowered asking prices on vacant lots which had been on the market for months without a contract.
Speaking of sellers, there are no new ones listing properties on the market this week for the first time in quite a while.  As a result our total residential inventory count is down 3 to 32 properties on the market currently, and our vacant land inventory count is down 7 to 86 lots listed for sale on all of Cape San Blas, Indian Pass and the CR/SR 30-A corridor.  That gets us all caught up for this week, thanks for checking in and let me know anytime I can assist with any of your real estate needs, (850)899-8765 or [email protected].
The Port St. Joe Jr. Service League is hosting the 13th annual Chili Cook-Off this Saturday the 28th from 12-4.  There will also be a car show, family bazaar, kids zone and live music – always a fun January Saturday afternoon in Gulf County.  Enjoy the weekend!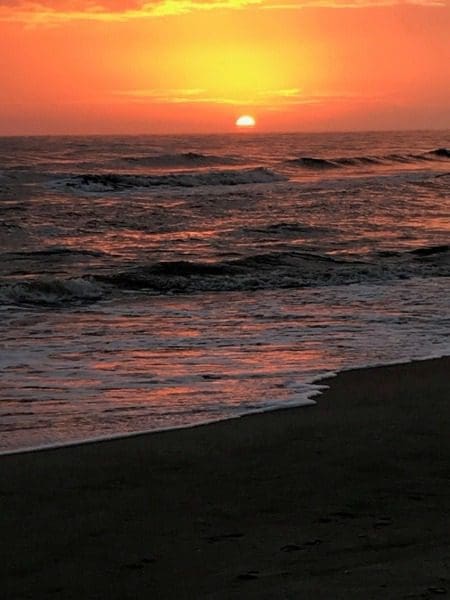 Winter time sunset on Cape San Blas