It was a beautiful week at the beach, with warmer temps and more early signs of spring as February is just about over.  Coming right off of President's Day and Fat Tuesday, we had a few more recorded sales and a handful of new contracts in the last 7 days, as our inventory levels continue to ride the wave of consistency for this first quarter of 2023.  As usual we'll begin with a brief summary of this week's 5 recorded sales from Cape San Blas, Indian Pass and the CR/SR 30-A corridor:
New contracts are up this week, with 9 different buyers and sellers coming to terms, totaling 5 new residential contracts and 4 new vacant land contracts.  Our comparative market can also report 1 cancelled vacant lot listing, and zero price reductions in the past 7 days.  9 new contracts and zero price reductions – worth noting, we'll continue to watch our numbers in the next few weeks as we close out our first quarter.
6 new listings were added to our inventory since our last update, an even split of 3 new residentials and 3 new vacant lots on the market.  After all the activity this week, our residential inventory is down 3 to 26 properties on the active market, and our vacant land inventory is down 1 to 80 lots for sale on all of Cape San Blas, Indian Pass and the CR/SR 30-A corridor.  That's a wrap for this week, thanks as always for checking in and let me know anytime I can help, (850)899-8765 or [email protected].
There's one more February parade on the Forgotten Coast this weekend, it's the Apalachicola Madri Gras Barkus Parade and Street Festival on Saturday the 25th.  Have a good one!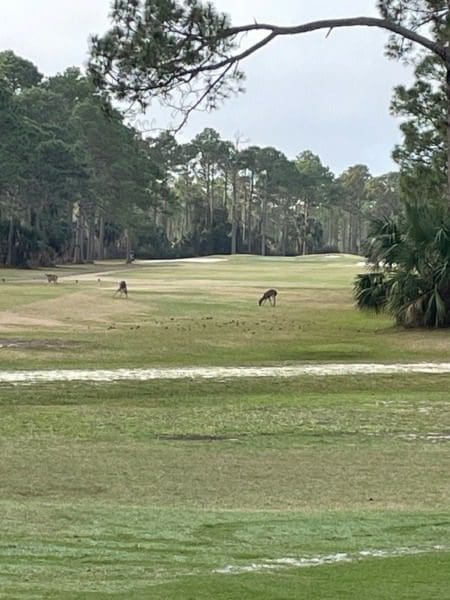 3 whitetail deer enjoying hole 3 at St. Joe Bay Country Club