Spring breakers have arrived at the beaches, as visitor numbers will continue to be on the rise for the remainder of the month.  The official start of spring is still over a week away, but it's already time to spring forward this Saturday night with daylight savings time.  Our real estate market continues to spring forward as well, with a few more new contracts and recorded sales from the past 7 days on Cape San Blas, Indian Pass and the 30-A corridor.  Below is a brief review of the 7 recently recorded sales for reference:
There were 5 new contract executed in our comparative market this week, which equals 3 new residential contracts and 2 new vacant land contracts.  There was also 1 recent residential contract from a couple of weeks ago which didn't work out, as the buyers cancelled and the property is back on the active market.  5 more sellers decided to lower asking prices since our last update, which breaks down to 2 residential price drops and 3 vacant lot price adjustments.
Our leading statistic for this past week is new listings with 12 additions, which is the sum of 6 new residential listings (2 already under contract) and 6 new vacant lot listings.  Our total residential inventory count is slowly increasing over the last couple of weeks, now sitting at 36 residential properties for sale, up 4 from last week.  Our vacant lot inventory is also on the rise, up 4 from last week with 83 vacant land listings available on all of Cape San Blas, Indian Pass and the CR/SR 30-A corridor.  That's another week in the books, thanks for stopping by and let me know anytime I can be of service, (850)899-8765 or [email protected].
The 18th annual Forgotten Coast en Plein Air event will take place next week from March 17 – 26, bringing artists of international acclaim to capture the natural beauty, character and local culture of our region through the plein air tradition.  Check out the website link for the entire schedule of events, including demonstrations, exhibits and workshops.  Meanwhile the water temps are on the rise, and the fishing is getting good when the wind lays down.  Enjoy this beautiful time of the year.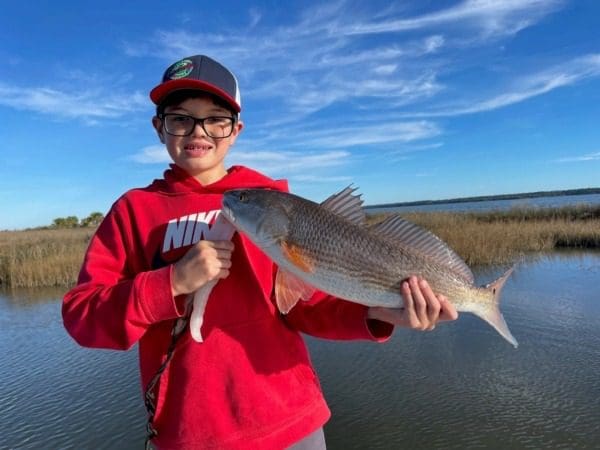 Owen Petrie with a nice late winter redfish from Indian Lagoon