Another week has come and gone, and there's some more encouraging real estate activity to report compared to our last few updates.  The spring break season is just about over, as there are a lot less visitors in town to enjoy the beautiful weather here in late April.  Less spring breakers and more buyers seems to be our latest trend this week.  Below is a brief review of the 3 recorded sales from the past 7 days in our Cape San Blas, Indian Pass and CR/SR 30-A market:
2731 SR 30-A – We'll start this week's update with a recorded residential sale from the Shallow Reed HOA just off the bayside SR 30-A corridor near Presnell's Marina, between the Cape turnoff and Port St. Joe.  This 4 bedroom, 4 bathroom, 2,393 sq ft structure is a new construction, unfurnished spec home built by Truland Homes sitting on a 0.25 acre lot measuring 73′ wide with an unobstructed bay view and deeded bay access.  The property was on the market for 14 days asking $699,900 before going under contract and selling for $690,000 cash.  This property was one of the 10 vacant lots which Truland Homes purchased from a Shallow Reed investor for $685,000 in late 2021 before building their spec homes.
112 S Higgins Street – Here's a real fixer-upper in the Village subdivision on Indian Pass.  It's an interior 1992-built home with 4 bedrooms, 2 bathrooms, 1,608 sq ft living space and a public beach access right down the road.  This property needs a lot of work, with some structural concerns, all of which was reflected in the sales price.  It came on the market asking $385,000, it was quickly reduced to $325,000, and after 12 days on the market it went under contract and sold for $310,000 cash.  The sellers had owned the property since 1995 when they purchased for $77,500.
Lot 37 Water's Edge Drive – This vacant lot is located in the Water's Edge HOA which is just off the CR 30-A corridor on the east side of the Cape San Blas turnoff.  It's an irregular-shaped, 0.18 acre interior parcel with access to the community pool, tennis court and deeded beach access across CR 30-A.  This property was on the market for 182 days with an initial asking price of $98,900 which was lowered to $89,000 before the buyers submitted a contract and purchased for $80,000 cash, which is the same price the sellers paid for the vacant lot in 2021.
What a difference a week makes – there were 9 new contracts executed in the past 7 days in our Cape San Blas, Indian Pass, and 30-A market, 7 were residential contracts and 2 were vacant land contracts.  2 more vacant lot listings were withdrawn from the active market, 1 vacant lot listing expired, and 1 vacant land contract from 3 weeks ago was cancelled, bringing this interior lot back on the active market.  Once again, a large number of price reductions to report in our market this week, as 11 sellers decided to go lower (1 of which resulted in a new contract).
One more big number for this busy week, 14 new listings made it to the active market, the sum of 5 new residential listings and 9 new vacant lot offerings (1 already under contract).  As a result, our vacant land inventory count is up 5 from last week to 93 lots for sale, and our residential inventory is down 2 to 55 residential properties for sale on all of Cape San Blas, Indian Pass, and the CR/SR 30-A corridor.  I hope everyone has a nice weekend and enjoys the spring conditions.  Let me know anytime I can help, (850)899-8765 or [email protected].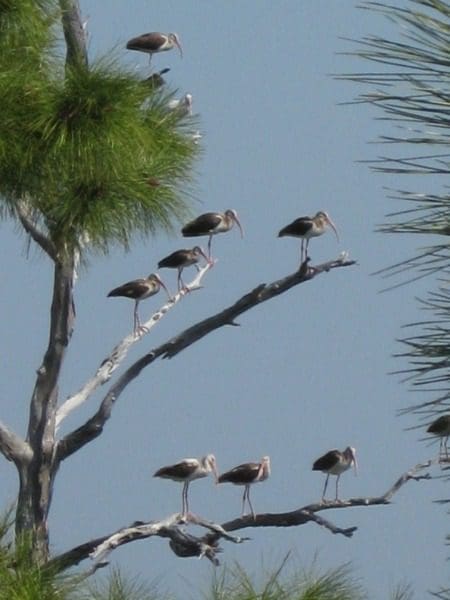 White Ibises on the north Cape