Happy Cinco de Mayo!  This first week of May has brought much calmer weather to the Gulf county beaches, along with a handful of new contracts which once again are outnumbering the new listings from the past 7 days.  Meanwhile the Fed's 10th straight rate increase since March of 2022 happened this week, going up another quarter-point, with Fed chair Jerome Powell suggesting that a pause in the hikes could come as soon as June.  As for recorded sales from Cape San Blas, Indian Pass and the CR/SR 30-A corridor, there were only 2 to report this week – here's a brief summary of the details:
1113 Indian Pass Road – This is a beautiful piece of property on Indian Pass peninsula – it's a 100′ wide, Gulf to Lagoon parcel with an older 1970s home on the lagoon side of the property.  The fully furnished rental home has 5 bedrooms, 4 bathrooms, a pool and hot tub, and 4,550 sq ft living space.  The house definitely needs some improvements and updating, but it has generated up to $160K in previous years as a vacation rental.  The lagoon side combined with the vacant Gulf front property totals over 3.5 acres with potential for further development.  This property was asking $2,590,000 for 189 days before selling this week for $1,950,000 with conventional financing.  The former owner purchased the property for $400,000 back in 2012.
7525 Cape San Blas Road – Here's a cute 3 bedroom, 2.5 bathroom 1,352 sq ft cottage on the north Cape with a Gulf view.  This 1994-built home sits on a 0.35 acre, 91′ wide lot with a small private pool and hot tub, along with deeded beach and bay access.  The fully furnished turnkey rental generated $80K in GRI last year, and it just sold for $690,000 with conventional financing after 16 days on the market asking $759,000.  The sellers had owned this property since 2010 when they paid $219,500.
Following up the 2 recorded sales in our comparative market this week was another healthy dose of new contracts, with buyers and sellers coming to terms on 7 more properties in the past 7 days.  There were 3 new residential contracts and 4 new vacant land contracts executed since our last update.  We also saw 8 more price reductions this week (1 of which was included in our new residential contracts), and 2 sellers increased their asking prices (1 of which was also included in our new vacant land contracts).  The end of April also delivered 4 expired listings which are no longer on the active market.
Only 2 new listings added this week (both vacant lots), as our inventory once again takes a hit.  Our residential inventory is down 4 to 49 properties for sale, and our vacant land inventory is down 5 to 88 lots for sale on all of Cape San Blas, Indian Pass and the CR/SR 30-A corridor.  The last couple of weeks are starting to feel like more of a sellers' market than what we've been accustomed to earlier in 2023.  Time will tell if this is a trend or a blip on the radar.  I hope everyone has a great Kentucky Derby weekend and enjoys this nice weather we've been having lately – please let me know anytime I can help with your real estate needs, [email protected] or (850)899-8765.  Locals and visitors should enjoy the Bayou Bash annual fishing tournament in Gulf County waters this weekend.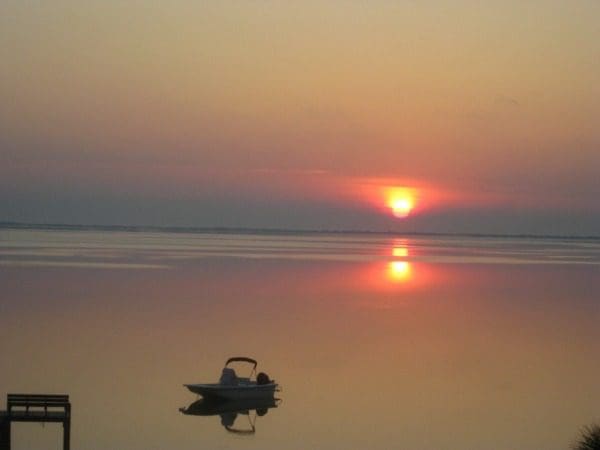 Calm, early morning on St. Joe Bay