It's feeling more like summer every day now that we're well into May, as schools are winding down and temperatures are going up.  It's been another productive week for recorded sales with some more newly executed contracts to keep the market momentum during this busy month.  There were 9 sales recorded since our last update on all of Cape San Blas, Indian Pass and the CR/SR 30-A corridor, below is a brief review of each:
There were 5 contracts executed in the past 7 days in our comparative Cape, Pass and 30-A market, 3 were new residential contracts and 2 were new vacant land contracts.  We can also report another cancelled contract which was a new vacant lot contract a couple of weeks ago, now back on the active market after the buyers had a change of plans.  6 more sellers reduced their asking prices just in time for the upcoming busy summer season, and another seller decided to withdraw 2 neighboring lot listings from the active market.
Our inventory levels are remaining fairly consistent once again, as we can report 4 new residential listings and 6 new vacant lot listings which were added to the active market within the past week.  As a result, our residential inventory is up 1 from last week to 48 properties for sale, while our vacant land inventory is up 3 to 93 lots for sale on all of Cape San Blas, Indian Pass, and the CR/SR 30-A corridor.  Thanks as always for checking in, and let me know anytime I can help in the future, (850)899-8765 or [email protected].  This Saturday the 20th is the annual Tupelo Honey Festival in Wewahitchka, and the Salt Air Farmers' Market is back in Port St. Joe this Saturday as well.  Have a nice weekend!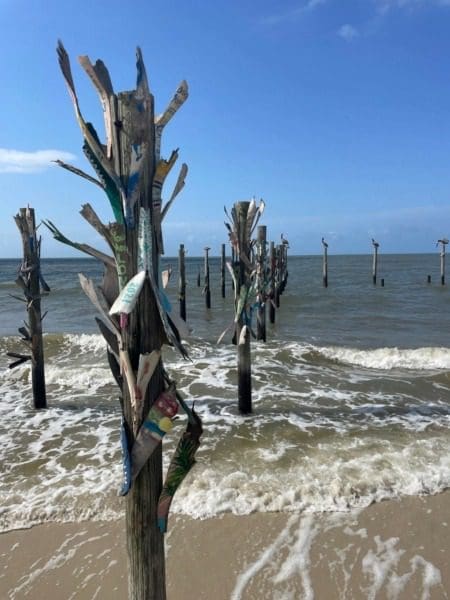 Indian Pass beach art