The heat is on in Gulf County, FL, as we're half-way through June already, coming up on Fathers' Day weekend.  To go along with our rising temperatures and humidity levels, we can also report a welcome increase in new contracts and another active week for recorded sales in our comparative market of Cape San Blas, Indian Pass and the CR/SR 30-A corridor. We've got a lot to cover for this update, so we'll get right to our summary of recorded sales:
6 different buyers and sellers came to terms on new contracts in our comparative market this week, there were 4 new vacant land contracts and 2 new residential contracts executed since our last update.  There were also 5 price reductions made to active listings, and 1 more contract was cancelled this week, putting this large Indian Pass subdivided parcel back on the active market.
Our total residential inventory continues to stay in the low 50s, while our vacant land inventory is slowly increasing and remaining in the triple digits in our comparative market.  There were 6 new vacant land listings added to our inventory this week, and only 1 new residential offering added to the mix.  As a result, our residential inventory is down 1 from last week to 52 properties listed for sale, while our vacant land inventory is up 3 to 103 lots available on all of Cape San Blas, Indian Pass, and the CR/SR 30-A corridor.  Let me know anytime I can assist with any of your real estate needs, (850)899-8765 or [email protected].  I hope everyone has a nice Fathers' Day weekend.
We've got the Salt Air Farmers' Market back in town this Saturday morning, while next Saturday, June 24th, is the date for the annual South Gulf County Coastal Community Association meeting from 10-12 at the First United Methodist Church in Port St. Joe.  You can either make plans to attend or stream live on their Facebook page.  Topics of interest for Gulf County citizens include beach and bay erosion, infrastructure, access-egress, water management, roads, affordable housing, safety, density, leave no trace, taxes, and more with plenty of important guest speakers – it should be an informative meeting.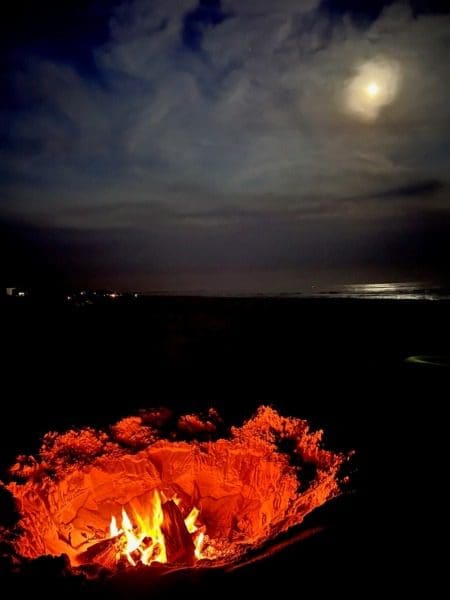 Full moon beach bonfire on Indian Pass beach