We welcomed the summer solstice, the official beginning of summer this week with more thunderstorms and a continued unsettled weather pattern on the coast.  Hopefully we're in for some improved weather next week with more sunshine and calmer conditions in the forecast.  Our market continues to hold its course in what many are calling a "nuanced sellers' market" with somewhat limited inventory, fewer buyers than last year, and higher costs associated with lending and property insurance.  New contracts are once again keeping pace with the new listings, and it was a slower week for recorded sales with only 3 since our last update, summaries below:
Lot 20B Indian Pass Road – Here's an impressive Gulf front lot comp for Indian Pass, it's a 50′ wide, 0.57 acre buildable lot directly off Indian Pass Road.  The vacant beachfront property was on the active market for 83 days this year asking $675,000 before going under contract and selling this week for $665,000 cash.  The seller paid $850,000 for the entire 100′ wide Gulf front parcel in 2008 which was subdivided into separate 50′ wide lots before the county recently tightened restrictions to no longer allow this type of minor replat on Indian Pass beach.
210 Driftwood Avenue – This next lot sale is from the north Cape in the Peninsula Estates neighborhood.  It's a 75′ wide, 0.37 acre lot with deeded beach and bay access a short walk away.  The interior vacant lot was on the market for 285 days with an initial asking price of $219,000 which was incrementally reduced down to $169,000 over the listing term.  The property just sold for $150,000 cash, not a bad deal for the sellers who paid $22,900 back in 1999.
2372 Indian Pass Road – Our one and only residential recorded sale this week is a Gulf view home on Indian Pass which was built in 2016 with 3 bedrooms, 2.5 bathrooms and 1,465 sq ft living space.  This house is located towards the eastern end of Indian Pass peninsula, and it sits on a 45′ wide, 0.55 acre lot which includes a 30′ wide stretch of property from the buildable area to the beach, which ensures a partial unobstructed Gulf view and private boardwalk access to the beach.  The fully furnished home was sold as a turnkey rental property with just over $45K in GRI production last year.  After 26 days on the market asking $999,000, this property just made it to the closing table after a quick contract period, selling for $945,000 cash.  The sellers owned this property for just about 2 years, as they purchased in the summer of 2021 for $825,000.
A total of 6 new contracts were executed since last Friday in our comparative market of the Cape, the Pass and the 30-A corridor, 4 new residential contracts and 2 new vacant land contracts.  It was another big week for price reductions with 9 seller discounts and 1 price increase to report.  4 more neighboring lots off the SR 30-A corridor which were owned by the same seller were withdrawn from the active market, another vacant lot listing expired, and there were 2 more previously executed contracts which were cancelled this week, putting both of these vacant lots back on the active market.
6 new listings made themselves right at home in our active, comparative market this week, the sum of 3 new residential listings and 3 new vacant land listings.  Our total active residential listing inventory sits at 52 properties available (same as last week), while our total vacant land inventory is up 2 to 105 offerings on all of Cape San Blas, Indian Pass, and the CR/SR 30-A corridor.  That's it for this week, don't forget about the South Gulf County Coastal Community Association meeting this Saturday, June 24th, from 10-12 EST at the First United Methodist Church of Port St. Joe, you can either attend in person or watch on their Facebook page.  Have a nice weekend and let me know anytime I can help, (850)899-8765 or [email protected].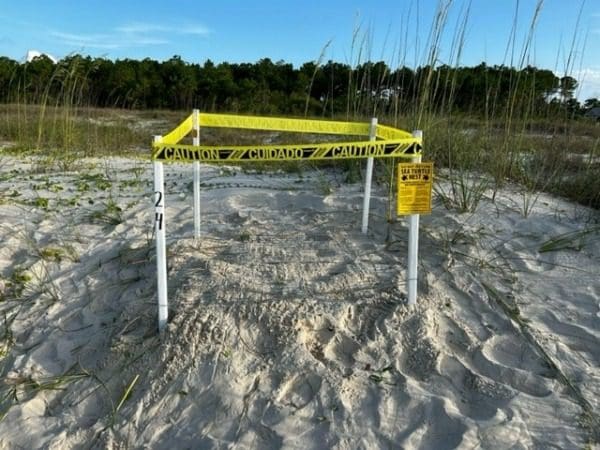 One of many new turtle nests on Indian Pass beach so far this summer