Gulf County schools are back in session, and the August temperatures and humidity levels feel higher than ever.  We had a slower week in our comparative real estate market of Cape San Blas, Indian Pass, and the CR/SR 30-A corridor, with fewer new transactions than we've seen in our recent updates.  We also saw 5 sales recorded through our MLS in the past 7 days, below is a brief summary of each:
4 new contracts were executed in our comparative market this week, all 4 of which were vacant land contracts.  We can also report another cancelled contract, as this fixer-upper is back on the active market after going under contract last week.  Two more sellers decided to lower their asking prices on both of these homes, and another active residential listing expired.
An even split of 3 new residential listings and 3 new vacant lot listings were added to our relevant inventory in the past 7 days.  This brings our total residential inventory up 3 from last week to 63 properties for sale, while our vacant land inventory is down 1 to 99 listings available on all of Cape San Blas, Indian Pass, and the CR/SR 30-A corridor.  That does it for this week's real estate blog, let me know anytime I can help, (850)899-8765 or [email protected].
And now for some more news we can use – it's been a record-breaking turtle nesting season on our Gulf County beaches.  So far to date there have been 114 sea turtle nests laid on the Indian Pass, CR-30A and south Cape beaches this turtle season (that's from the eastern end of the Indian Pass peninsula at the boat ramp all the way to the Eglin Air Force base property fence on the south Cape).  To put this in perspective, an average turtle nesting season usually sees about 54 nests on this same stretch of beach, and the highest recorded count before this year was 83.  Many thanks to our local volunteer turtle patrol who checks our beaches for new nests and hatches every morning, and marks each nest with appropriate signage and protection.  It sounds like the entire state of Florida is having a banner turtle season – here's a link to the FWC Facebook page for some more impressive statewide 2023 turtle nesting numbers.  Have a nice weekend!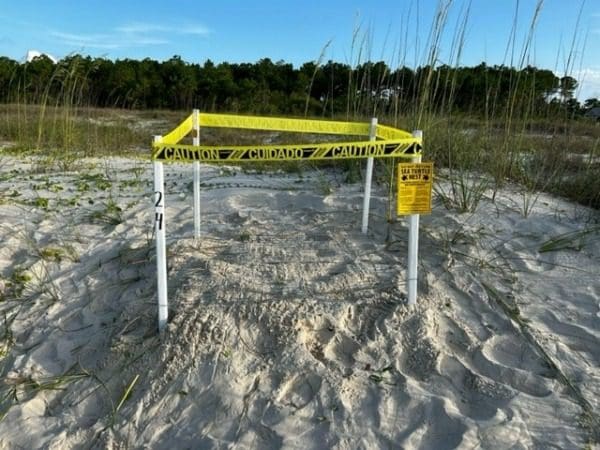 An Indian Pass turtle nest from earlier this summer