Despite the hurricane watch and upcoming holiday weekend, last week was surprisingly busy in our comparative market with closed transactions and new contracts.  This week has been much slower in contrast, as the summer peak tourism season is now officially over.  There were 3 recorded sales through our MLS on all of Cape San Blas, Indian Pass, and the CR/SR 30-A corridor, and the fewest number of new contracts that we've seen in a weekly update since the beginning of the year.  Here's a quick review of our 3 recorded sales:
1129 Indian Pass Road – Our first residential sale of the week comes from the Indian Pass peninsula, it's an estate of 3.7 acres with 200′ of frontage on Indian Lagoon with multiple structures on the property.  The property includes a 2013-built 4 bedroom, 4.5 bathroom home with 3,819 sq ft of living space, an elevator, and some furnishings and supplies.  There is an additional older, 1960s home on the property in need of some repair and improvements with 2 bedrooms, 2 bathrooms, and 1,989 sq ft of living space.  Also included on the platted lot are a large pool and clubhouse, both in disrepair since Hurricane Michael in 2018.  This property was originally listed for sale last October asking $1,900,000, and after a failed contract due to lender complications it went back on the market this spring with an adjusted asking price of $1,690,000.  After a total of 262 days on the market, the estate went under contract and sold for $1,400,000 with conventional financing, which included seller concessions of an additional $47,688 for lender-required repairs.  The selling family had purchased this property in 1999 for $325,000 before adding the 2013 residence, pool, and clubhouse.
249 Florida Avenue – Here's a Gulf view, second tier to the beach home on the south Cape which just made it to closing.  This 2006-built house has 4 bedrooms, 3.5 bathrooms and 2,197 sq ft of living space, and it was sold fully furnished as a turnkey rental home which grossed just under $90K in rental income last year.  The home is located in the Boardwalk Subdivision which offers a community pool and deeded beach access via community boardwalks.  The property was on the market for 76 total days asking $989,000 initially before being reduced to $974,000 and going under contract.  The vacation rental home sold for $924,000 cash, a nice gain for the sellers who purchased for $545,000 in 2018.
970 Indian Pass Road – The one and only vacant lot sale this week is a Gulf front lot on Indian Pass which measures 54′ in width, 0.44 acres, and includes approved house plans and a FL DEP permit to proceed with construction.  The already cleared property was listed for sale in late May asking $775,000 and was later reduced to $705,000.  After 51 total days on the market, the listing went under contract and just sold for $685,000 with conventional financing.  The sellers purchased the property in June of last year for $675,000 with intent to build, but apparently had a change of plans.
There was only 1 new contract executed between buyers and sellers through our MLS within the past 7 days in our comparative market of the Cape, Indian Pass and 30-A corridor.  4 more listings expired and 1 beachfront home was also withdrawn from the active market.  Meanwhile the biggest stat of the week goes to price reductions, with 8 recorded discounts since our last update.
Only 4 new listings were added to our relevant inventory this week, 3 residential properties and 1 vacant land listing.  Our total residential inventory count is holding steady at 69 active listings, while our vacant land inventory is down 1 from last week to 92 lots for sale on all of Cape San Blas, Indian Pass, and the CR/SR 30-A corridor.  Thanks for stopping by, let me know anytime I can be of service, (850)899-8765 or [email protected].  It should be another fun weekend in Gulf County, especially at the second annual Windmark Beach Music Festival on Saturday afternoon.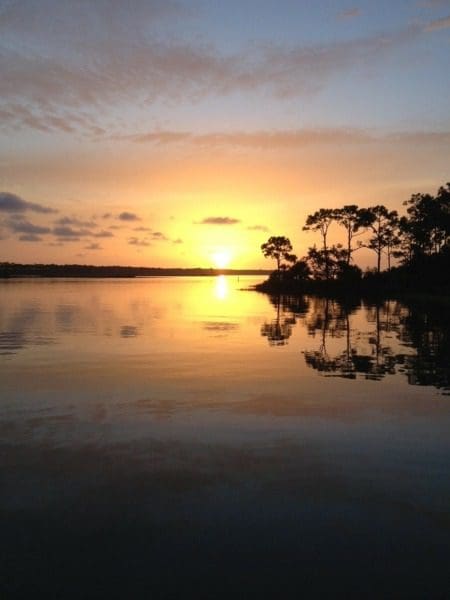 Big Bayou sunrise off St. Vincent Island