We are now halfway through September as the post-summer slowdown continues in our comparative real estate market of Cape San Blas, Indian Pass, and the CR/SR 30-A corridor.  It's been another week with minimal new activity to report, with the exception of price reductions and new listings as our inventory levels are on the rise.  Only 2 sales were recorded through our MLS in the past 7 days, keep reading for the review.
183 Haven Road – The one and only residential recorded sale of the week is this beachfront home on the north Cape.  It's a 2000-built home with 6 bedrooms, 3 bathrooms, 2,328 sq ft of fully furnished living space and a residential elevator.  This vacation home with nice rental income potential is situated on a 64′ wide, 0.52 acre lot on a nice, wide stretch of north Cape beach in front of the Ocean Haven subdivision.  The property hit the market in late April asking $1,999,000 and was later reduced to $1,899,000 before going under contract after 94 total days on the market.  The sale was just recorded at $1,740,000 which included some seller concessions for inspection and permit-related items.  The sellers purchased the home 3 years ago for $1,250,000.
Lot 6 Curve Road – The solo vacant lot sale of the week is this beachfront parcel located in the Curve At The Cape gated HOA just off the CR 30-A corridor near the Cape turnoff.  The property measures 62′ wide on the beach and 0.54 acres at the end of the cul de sac in the 11 lot small community.  The sale included engineered and approved plans for a 3,000 sq ft, 2 story house and pool with FL DEP permitting.  This listing was on the market for 422 days with an asking price of $749,900 before selling for $650,000 cash.  The sellers purchased the vacant property in 2020 for $295,000.
For the second straight week we have only 1 new contract to report in our comparative market, as this new vacant lot listing now has a buyer in waiting.  We can also report 1 cancelled contract as this residential property is back on the active market as a result.  Meanwhile 3 more listings expired and 1 was withdrawn from our active MLS inventory.  More and more sellers and agents are taking notice of our recent market trends as price adjustments continue to dominate the weekly statistics with 14 price reductions and 1 price increase in our comparative market.
On to the new listings, as an even split of 5 residential listings and 5 vacant lot listings were added to our inventory counts in the past 7 days.  That brings our residential inventory count up 6 from last week to 75 properties for sale, which is the highest residential inventory count this blog has reported since November of 2020.  Our vacant land inventory has been more consistent lately, up just 1 from last week to 93 lots for sale on all of Cape San Blas, Indian Pass, and the CR/SR 30-A corridor.  Stay tuned to see how our market responds in the coming weeks, as we might not be able to call this a "nuanced sellers' market" for much longer.  Enjoy the weekend and let me know anytime I can assist with any of your real estate needs, (850)899-8765 or [email protected].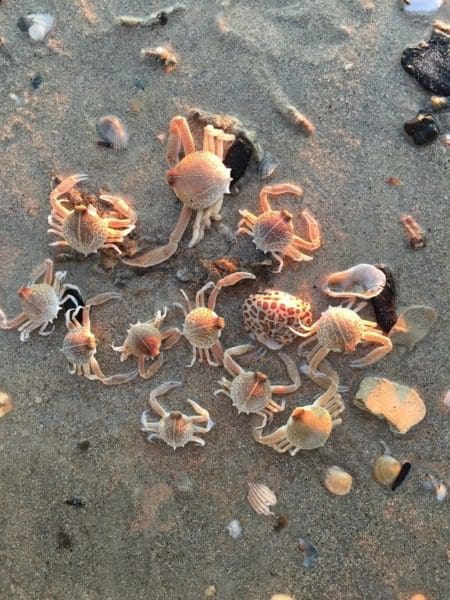 Assortment of crabs and shells on Indian Pass beach after a storm