Scallop Season in Gulf County officially ends this Sunday, September 24th.  Although it hasn't been a banner season with the scallops plentiful and easy to find, I've heard there are still some nice scallops in the bay in the deeper water and higher grasses.  It's supposed to be another beautiful weekend, so I'm sure there will be a fair amount of traffic on the bay for the last couple days of the season.  In our real estate market we did see an uptick in new activity this week compared to the first half of the month, we'll get right to it with a brief review of the 3 recorded vacant lot sales from the past 7 days from Cape San Blas, Indian Pass, and the CR/SR 30-A corridor:
Lot 18 Mariner Lane – The first lot sale of the week comes from the South Beach gated community on the south Cape.  This vacant lot measures 100′ wide and 0.27 acres, and it would provide Gulf views from a future elevated home on site with a deeded neighborhood beach access boardwalk a short walk away.  This property was on the market for a total of 120 days, originally priced at $220,000 and incrementally reduced down to $129,000 before going under contract.  The sale just closed at $100,000 with conventional financing, which is up from the $82,000 the sellers paid in May of 2022.
Lot 23 Mariner Lane – One more lot sold this week in the South Beach gated community, lot 23 is a little further away from the beach on the corner of Cape San Blas Road and Mariner Lane.  The platted lot also measures 100′ wide and 0.27 acres with potential water views from an elevated homesite and the deeded beach access.  This property was originally priced at $119,900 before being reduced down to $99,000 and going under contract after 206 total days on the active market.  The lot just sold for $95,000 cash, which is a gain for the sellers who bought the lot for $24,000 in 2014.
Lot 2 Seagrass Circle – Our final lot sale comes from a different gated community on the north Cape, the Seagrass HOA which offers a community pool and neighborhood deeded beach access.  This vacant lot which backs up to Cape San Blas Rd would offer Gulf and bay views from a future elevated home.  The property measures 100′ wide, 0.25 acres, and is located entirely in the X flood zone with high enough elevation to be exempt from the flood insurance lender requirement on a future home.  This listing started with an asking price of $275,000 which was reduced to $260,000, and after 43 days on the active market the property went under contract and sold for $249,000 with conventional financing.  This will go down as a loss for the sellers who paid $299,900 when they purchased the lot back in 2004.
After 2 consecutive weeks with only 1 new contract to report, there were 5 new contracts executed between buyers and sellers within the past 7 days in our comparative market (2 residential and 3 vacant lot contracts).  5 more sellers reduced their asking prices, 1 vacant lot listing expired, while another lot listing was withdrawn from the active market.
Inventory levels are holding steady, as 1 new residential listing and 4 new vacant land listings were added into our comparative market MLS this week.  Our total residential inventory count is down 1 from last week to 74 properties for sale, and our vacant lot inventory is also down 1 to 93 lots for sale on all of Cape San Blas, Indian Pass, and the CR/SR 30-A corridor.  That's all for this week, thanks again for reading the weekly blog and let me know anytime I can help, [email protected] or (850)899-8765.
This weekend not only marks the end of scallop season, but also the beginning of the fall season, and there's plenty of good stuff going on in Gulf County.  PortOberfest (Wurst Fest in the Joe) is happening at the City Commons on Reid Avenue from 12 to 4 pm on Saturday the 23rd.  The Haughty Heron is also hosting an end of the summer Block Party at Marina Cove, featuring live music Saturday afternoon and evening, including a new album release party for local favorites The Currys.  On Sunday the 24th there is a park-wide cleanup being organized at T.H. Stone St. Joseph Peninsula State Park, volunteers are meeting at 9:30 at the Eagle Harbor pavilions.  Have a good one!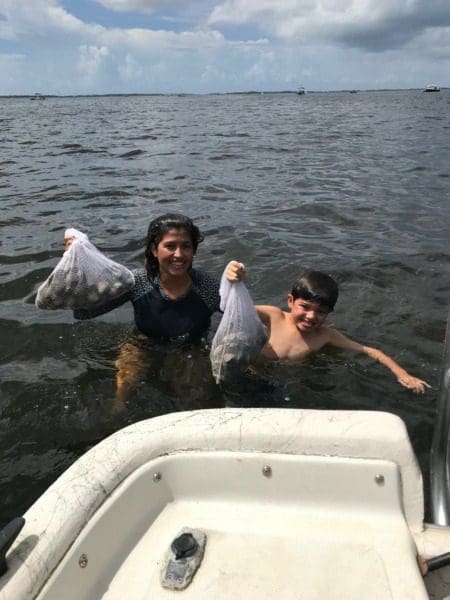 Full disclosure, this photo is several years old, let's hope for more scallops next year!