It's Friday the 13th and October is moving fast.  Gulf County caught up on some more rain and thunderstorms this week, but it looks like the sunny and cooler fall conditions will return for the weekend.  Not a whole lot of new activity to report from the past 7 days in our comparative market of Cape San Blas, Indian Pass, and the CR/SR 30-A corridor, with only 2 recorded sales and a 3 new contracts to go along with a few more new listings and price adjustments.  As usual, we'll start with a review of the recorded sales with a link to the full detail for each property followed by a brief summary of the important details of the sale (2 residential sales):
149 Mercury Lane – 2002-built, furnished home with Gulf & bay views, south Cape location in the Surfside Estates Phase II HOA with deeded beach access, 4 BR, 2.5 BA, 1,940 sq ft on a 0.25 acre, 90′ wide lot;  sold for $840,000 with conventional financing after 57 DOM asking $859,000; sellers bought the lot in 1998 for $31,500 and built the house themselves
124 Sabal Circle – 1999-built, attached townhouse with furnishings, Gulf views and a GRI of $23,550 in 2022, north Cape location in the Barrier Dunes HOA with community pool, tennis courts, fishing ponds & beach access, 3 BR, 3.5 BA, 1,856 sq ft on a 20′ wide, 0.01 acre lot;  sold for $575,000 with conventional financing after 28 DOM asking $639,000;  sellers purchased for $318,000 in 2016
Only 3 new contracts were executed in the past week in our comparative market, 2 were residential contracts and 1 was a vacant land contract.  There was another cancelled residential contract to report, putting this north Cape bayfront home back on the active market, while on the flip side 1 expired listing and a couple more withdrawn listings are now off the market.  9 more sellers lowered asking prices since our last weekly update.
Our inventory levels are inching upwards, as 6 new residential listings and 2 new vacant lot listings were added to the active market this week.  As a result our residential inventory count is up 3 from from last week to 77 properties for sale, and our vacant land inventory is up 1 to 94 lots for sale on all of Cape San Blas, Indian Pass and the CR/SR 30-A corridor.  We're all caught up for this week, let me know anytime I can be of service, (850)899-8765 or [email protected].  Enjoy this upcoming fall weekend, and all you music lovers make plans to enjoy next weekend's Blast On The Bay in Port St. Joe and Porch Fest in Apalachicola.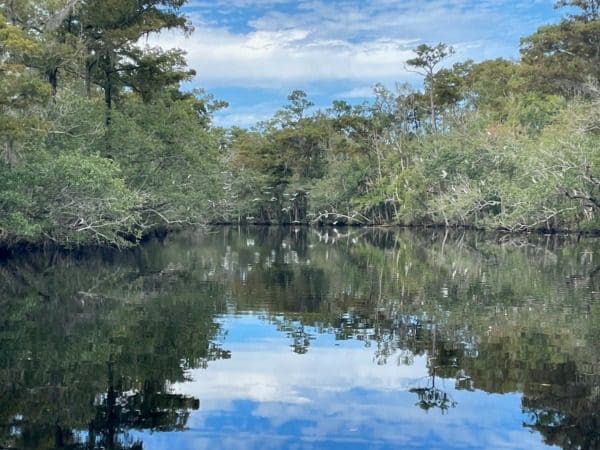 a small flock of egrets flying ahead on Depot Creek, on the way to Lake Wimico