It's been another nice fall weather week on the Forgotten Coast, and it should be a great weekend for all the live music on tap for our area.  While the comparative real estate market of Cape San Blas, Indian Pass, and the CR/SR 30-A corridor only recorded one sale through our MLS in the past 7 days, we did see a positive jump in newly executed contracts this week.  Our one and only recorded sale was a vacant lot, below are the details before we get into the new contracts and relevant updates:
Lot 32 Las Palamas Lane – 50′ wide, 0.1 acre vacant lot in the Villa Del Sol HOA with Gulf views (2nd tier to the beach) and access to community pool, pickleball & volleyball courts, deeded beach access, south Cape location;  only 3 DOM asking $179,000 before selling for $170,000 cash; sellers purchased the lot for $114,900 in 2021
7 new contracts were executed in our comparative market this week, 2 were residential contracts and 5 were new contracts on vacant lots.  Unfortunately 2 more recent contracts from previous updates were cancelled this week, putting this north Cape vacant parcel and this south Cape residence both back on the active market.  Meanwhile 3 vacant lot listings expired, and 2 residential listings were withdrawn from the active market in the past 7 days.  On the subject of price adjustments, the asking prices for 9 residential listings were lowered, while 1 vacant lot seller raised his asking price this third week of October.
On to the new listings, as an even split of 4 new residential offerings and 4 new vacant lot options (1 already under contract) were welcomed into our inventory pool.  Inventory levels continue to hold steady, as our total residential count is up 2 from last week to 79 properties for sale, while our vacant land count is down 2 to 92 lots for sale on all of Cape San Blas, Indian Pass, and the CR/SR 30-A corridor.  Thanks as always for reading the CSB Real Estate Week in Review blog and let me know anytime I can help with your real estate needs, (850)899-8765 or [email protected].  If you're an in town music lover this weekend, enjoy the Blast on the Bay in Gulf County and the Apalachicola Porch Fest!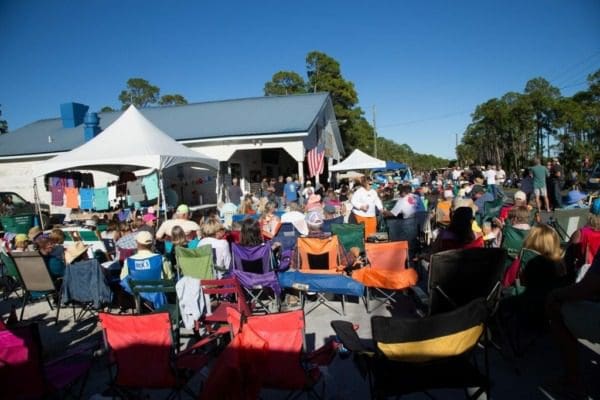 Blast on the Bay from a few years back at the Indian Pass Raw Bar, Sunday finale