It's unbelievable that November is already here, and with it came some chilly and breezy conditions at the beach on the heels of Halloween.  This week the Federal Reserve continued its pause on rate hikes for November, as there seems to be divided sentiment about what we can expect from the next mid-December meeting.  While short term interest rates are holding steady, long-term borrowing costs have gone up with the average 30 yr home mortgage cost currently at 7.79% according to Freddie Mac, the highest since 2000.  Our local comparative real estate market of Cape San Blas, Indian Pass, and the CR/SR 30-A corridor caught up on some recorded sales this week, but only only 1 new contract to accompany a few more price adjustments and expired listings.  Below is a summary of the 8 recorded sales through our MLS from the past 7 days:
The one and only new contract negotiated in our comparative market within the past 7 days was for this vacant, interior RV-friendly lot on Golf View Drive off the SR 30-A corridor directly behind Bayou Storage.  A total of 8 listings expired at the end of October without a successful contract (5 vacant lots and 3 residential properties), while 3 more listings were voluntarily withdrawn from the active market (1 home and 2 vacant lots).  8 more sellers decided to reduce their asking prices this week (3 home price reductions and 5 vacant lot discounts).
6 new listings were added to our Cape San Blas, Indian Pass, and CR/SR 30-A corridor inventory levels this week, the sum of 2 fresh residential properties and 4 new vacant lots.  Inventory levels are down slightly as a result of all the expired and withdrawn listings, with 75 residential properties now available (down 2 from last week) and 90 vacant land options in our comparative market (down 4 from last week).  Thanks again for checking in, and if you're thinking of buying or selling, you can always reach me at (850)899-8765 or [email protected].  It's Florida Seafood Festival weekend in Apalachicola, and the Salt Air Farmers' Market is back in Port St. Joe this Saturday morning – enjoy the weekend!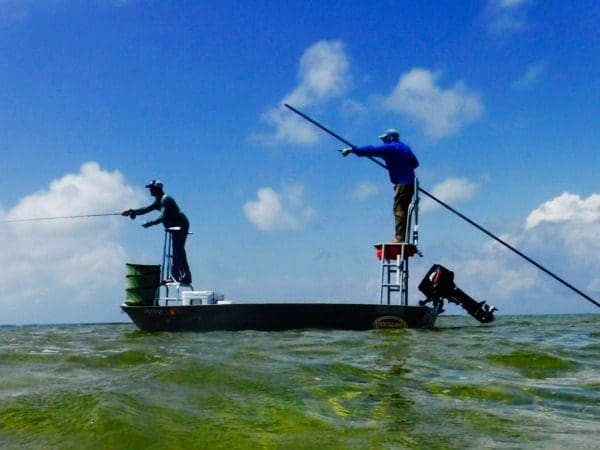 Sight fishing in St. Joe Bay