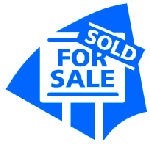 It's the end of May – many schools are already out and Memorial Day weekend is here, which always marks the start of our busy summer season at the beach. After some torrential rains the past couple of days, things are drying up and it looks like a beautiful holiday weekend is on the way. We've had a bit of a slower week with new activity for the first time in a while, let's review the six recorded sales through our MLS from Cape San Blas, Indian Pass and the CR/SR 30-A corridor within the past seven days:
Only three new contracts to report this past week in our comparative market, all three are residential properties. It was a tough week to show property with all the rain we've had, not to mention the fact that things are usually slower on the week leading up to a holiday weekend. We'll see if this turns into a trend or not in the coming weeks now that we're into the summer season. We also can report five price reductions, all on residential properties as well. There were two withdrawn listings and two more expired listings in the past week, all four of these were vacant lots.
Busier week for new offerings, with six new residential listings and six new vacant lot listings hitting the market on our MLS this week. This brings our total inventory count to 33 residential properties for sale and 82 lots for sale on all of Cape San Blas, Indian Pass and the CR/SR 30-A corridor. That does it for this week's real estate update – thanks again for checking in, and please let me know anytime I can be of service, [email protected] or (850)899-8765.
In the words of our 33rd president Harry S. Truman, "Our debt to the heroic men and valiant women in the service of our country can never be repaid. They have earned our undying gratitude. America will never forget their sacrifices." May everyone have a peaceful and meaningful Memorial Day Weekend!