The first official day of spring began with temperatures in the high 30s at the beach this past Monday morning, but it's warmed up nicely this week, feeling like spring all over again.  Quite a few new listings and price adjustments this week, with only a couple of new contracts to report.  We'll jump right into a review of the 8 recorded sales from the past 7 days on all of Cape San Blas, Indian Pass and the SR/CR 30-A corridor:
While we did see a larger number of contracts make it to closings in the past 7 days, there were only 2 new contracts executed between buyers and sellers in our comparative market, which is once again down from the previous week (both were residential contracts).  Meanwhile 1 previously executed contract from a couple of weeks ago was cancelled, resulting in this residential listing coming back on the market.  We can also report 6 price reductions this week, an even split of lots and residential properties, and 1 more vacant lot listing expired.
Once again the biggest number of the week goes to new listings as our inventory levels continue to climb.  9 new residential listings were added to our inventory since our last update, bringing our total residential count up 8 to 47 residential properties for sale in our comparative market.  5 new vacant land listings arrived this week, raising our total inventory up 4 to 90 lots for sale on all of Cape San Blas, Indian Pass and the CR/SR 30-A corridor.  I hope everyone has a nice weekend – call, text or email if I can help with any of your real estate needs, (850)899-8765 or [email protected].
Reminder for all locals and visitors that Scallop Republic on the south Cape not only features great live music, beer & wine, but also has the Joe Mama's food truck on property every week from Wednesday to Saturday, offering pizza, calzones, wings and salads.  This Saturday is the day for the Blues On Reid free concert in Port St. Joe, rain or shine, be there!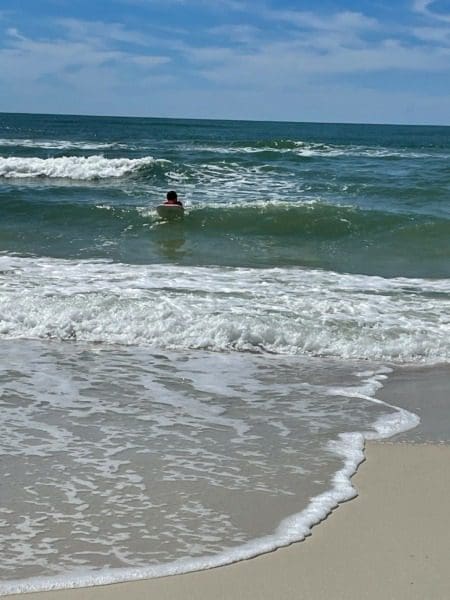 spring breaker enjoying the refreshing March Gulf waters