Following a less active and abbreviated work week due to Independence Day, this week's real estate activity levels have picked up where they left off in late June.  We've seen another nice jump in new contracts on Cape San Blas, Indian Pass and the CR/SR 30-A corridor, along with a healthy number of new listings and price reductions.  There was still only 1 recorded comparative market sale from the past 7 days through our MLS, below are the details:
Lot A Hibiscus Drive – here's a bayfront vacant lot on the north Cape that is located just before Rish Park.  This property is 67′ wide on the bay frontage and measures 0.79 acres and includes a newly constructed 472′ long dock on St. Joe Bay.  The bayfront lot was listed for sale in early February asking $589,000, and the seller and listing agent continued to lower the asking price down to $489,000 by early June before accepting a contract.  After 142 total days on the active market, the property just sold for $465,000 cash, which is the same price the sellers paid in 2021 before adding the dock to the property.
We're on to the second half of the busy summer season, and transactions are up with 3 new residential contracts and 6 new vacant land contracts executed within the last 7 days in our comparative market.  We've got another cancelled contract to report, putting this CR 30-A Gulf front lot back on the active market, and a few more sellers lowered asking prices on these 6 active listings.
An even split of 4 new residential listings (1 already under contract) and 4 new vacant lot listings were added to our inventory this week, resulting in an unchanged total inventory count since our last update.  Residential listings are up 2 to 57 properties for sale, while vacant land listings are down 2 to 96 lots for sale on all of Cape San Blas, Indian Pass and the CR/SR 30-A corridor.  An unsettled weather patterns has returned to the coastline recently, and it looks like it will be a wet weekend at the beach, so enjoy the cooler temperatures.  Let me know anytime I can help, (850)899-8765 or [email protected].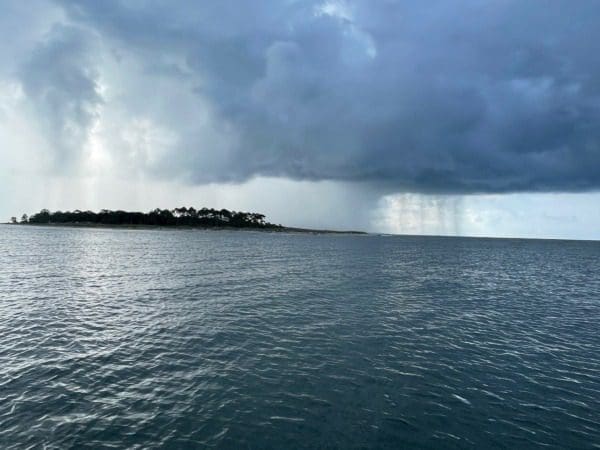 Summer showers over St. Vincent Island off Indian Pass