Football season is officially over, and Valentine's Day has come and gone.  Most of the past week was warmer at the beach as we're starting to see some early signs of spring.  Real estate is also warming up with a few more new contracts and some recent sales from the past 7 days in our Cape San Blas, Indian Pass and CR/SR 30-A corridor market.  Below is a quick review of the 6 recorded sales:
There were 5 recently executed contracts to report this week, 3 new residential contracts and 2 new vacant lot contracts.  One of the residential contracts actually includes two waterfront properties on Indian Pass being sold together.  Another expired listing and a withdrawn listing, both vacant lots, are also no longer on the active market.  3 more sellers lowered their asking prices in our comparative market, one of the price reductions resulted in one of our new vacant land contracts this week.
A total of 7 new listings were added to our comparative market this past week, 4 new residential listings (1 already under contract) and 3 new vacant lot listings.  Our total inventory counts are staying fairly consistent so far this year, as our residential count is down 1 from last week to 29 residential properties on the market, and vacant lots are also down 1 to 81 lot listings for sale on all of Cape San Blas, Indian Pass and the CR/SR 30-A corridor.  That's all for this week, let me know anytime I can help with any of your real estate needs, [email protected] or (850)899-8765.
Don't forget about the annual Mexico Beach Gumbo Cook-Off this Saturday, February 18th, and the Salt Air Farmers' Market is back in Port St. Joe this Saturday as well.  We'll roll into next week with the Forgotten Krewe Mardi Gras parade in Port St. Joe followed by a party at the Haughty Heron on Fat Tuesday, February 21.  February has turned into quite a busy month on the Forgotten Coast, have a good one!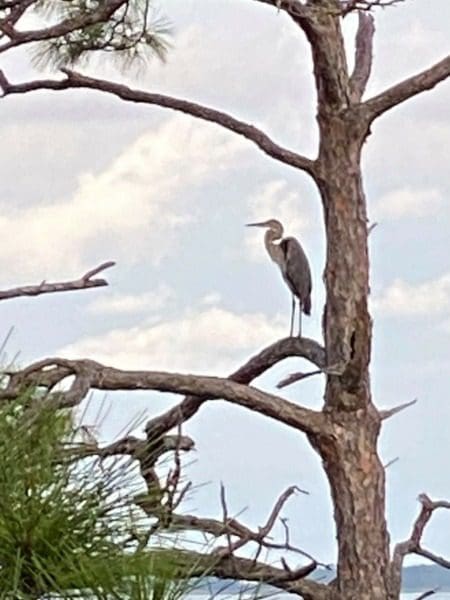 Friendly neighborhood Blue Heron on the north Cape bayside