Some cooler weather and rain showers arrived on the Gulf County beaches this second week of April, as the spring break season continues with plenty of visitors still in town.  Not a whole lot of new buying activity to report this week – a low number of recorded sales and new contracts with a higher number of price reductions and new listings.  We'll get started with a quick review of the 2 recorded sales from the past 7 days in our Cape San Blas, Indian Pass and CR/SR 30-A corridor market:
6283 Cape San Blas Road – Here's a new construction, 4 bedroom, 4.5 bathroom, 2,377 sq ft living space first tier home (one behind Gulf front) on the north Cape in the Christo Beach subdivision.  The unfurnished spec home features nice Gulf views with a private pool and easy beach access, sitting on a 50′ wide lot which lies entirely in the X flood zone.  The rental income projections for this new home are in the range of $170K per year, and it lasted 186 days on the market with an asking price of $1,599,999.  The property just sold for $1,400,000 with conventional financing, just two and a half years after the seller purchased the vacant lot for $205,000 and built the house.
191 White Sands Drive – This is a 1985 Gulf view home on the north Cape which has been recently renovated and improved with a private pool.  With 3 bedrooms, 2 bathrooms, 1,374 sq ft living space and an easy beach access, this fully furnished turnkey rental generated $75,000 in GRI last year.  It was entered into our MLS as a comp, never an active listing active, and it sold for $750,000, which was a nice return for the seller who purchased as a bank-owned property back in 2013 for $193,700.
Only 2 new contracts in the past week from all of the Cape, Indian Pass and 30-A corridor (both vacant land contracts), with another cancelled listing and 2 more expired listings no longer on the active market.  Quite a few sellers decided to adjust pricing this week with 12 total price reductions in our comparative market (7 homes and 5 vacant lots), resulting in some increasingly attractive opportunities for potential buyers.
11 listings were added to our inventory since our last update, consisting of 7 new residential listings and 4 new vacant lot listings.  That brings our residential inventory up 5 from last week to 57 properties for sale, and our vacant land inventory is up 1 to 88 lots for sale on all of Cape San Blas, Indian Pass, and the CR/SR 30-A corridor.  Thanks again for reading the weekly blog and let me know anytime I can be of service, [email protected] or (850)899-8765.  The Salt Air Farmers' Market is back in Port St. Joe this Saturday, and also some good live music at some of our local venues – have a nice weekend!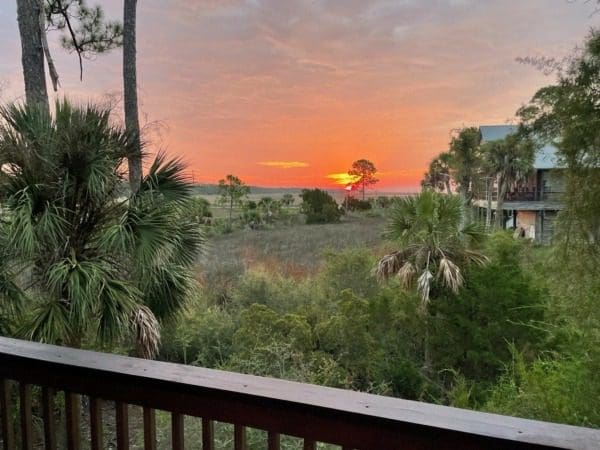 April sunrise over marsh and Indian Lagoon