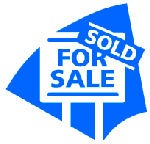 Hello readers – here we go right into June, the gateway to summer.  Temperatures are up, lots of folks in town renting, beachgoing, fishing and shopping, and our real estate market keeps on rolling right along.  Plenty of new activity this week, perhaps making up for a slower last week of May in our previous blog post.  Below is a detailed look at the eight recorded sales from Cape San Blas, Indian Pass, and the CR/SR 30-A corridor within the past 7 days:
There was a healthy uptick in new activity this week, with a total of 11 new contracts from the Cape, Pass and 30-A corridor, consisting of 7 new residential contracts and 4 new vacant land contracts executed by buyers and sellers. There were also 3 cancelled contracts in the past seven days, 2 residential properties and 1 vacant lot which are all back on the active market. Several more price adjustments to report, with 6 reductions and 2 increases. One more expired listing to note, a vacant lot no longer on the active market.
3 new residential listings were added to our inventory this week which brings our total inventory count to 34 residential properties on the market for all of Cape San Blas, Indian Pass and the CR/SR 30-A corridor.  We also counted 10 new vacant lot listings this week (2 already under contract), which gives us a total of 88 vacant lots listed for sale in our same comparative market. 
That's all for this week folks, thanks again for reading and please let me know anytime I can help with any of your real estate needs, chris.coastalreale[email protected] or (850)899-8765.  Don't forget about the Salt Air Farmer's Market is this weekend, the first and third Saturday of every month in Port St. Joe this time of year.  I hope everyone stays cool and has a great weekend!