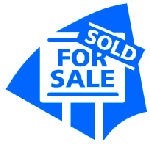 I hope everyone enjoyed some quality time with family and friends over the 4th of July holiday weekend.  Not quite as many fireworks to report in our market update this week, as we saw fewer recorded sales, signed contracts and new listings to go along with some more price reductions and a few cancelled contracts.  We'll begin with a review of the 5 recorded sales through our MLS for all of Cape San Blas, Indian Pass and the CR/SR 30-A corridor within the past 7 days:
There were only 4 new contracts executed in our comparative market within the past 7 days, which is the sum of 3 new residential contracts and 1 new vacant land contract.  We saw 2 withdrawn listings and 1 more expired listing, all 3 of which are no longer for sale on our MLS.  3 more buyers cancelled contracts this week, all 3 of these cancelled contracts are residential properties which are back on the active market.  We also can report 7 price reductions in our market since our last update.
On the subject of new offerings, there were 4 residential listings added to our inventory along with 4 new vacant land listings.  Our total inventory count is holding relatively steady with 59 residential properties and 94 vacant lots on the market for all of Cape San Blas, Indian Pass and the CR/SR 30-A corridor.  That's all for this week's real estate update, thanks as always for checking in.  Let me know anytime I can help or be of service, (850)899-8765 or chris.c[email protected].  Have a great weekend and stay cool!