We're into February with a foggy start to the month at the beach.  The federal reserve announced another rate hike this week as expected, although the quarter percentage point raise is the smallest rate increase of the past 11 months.  This decelerated rate hike signals that the central bank is growing more confident about inflation and the overall state of our economy, although this will not likely be the end of increased interest rates in 2023.  While the federal funds rate continues to rise, the average interest rate for the 30-year mortgage is down to 6.13% this week, which is almost a whole percentage point lower than the peak 7.08% we saw about 2 months ago, which should help boost some homebuyer confidence.  Meanwhile our local market conditions are remaining consistently slow for new activity, as this week marks the second time in 2023 with no recorded sales over the 7 day period for all of Cape San Blas, Indian Pass and the CR/SR 30-A corridor.  We did see a few new contracts, price reductions and new listings, along with a handful of expired listings from the end of January.
It's all about the land this week, as all 4 of the newly executed contracts from our comparative market were vacant lots.  There were also 7 expired listings which are no longer listed on our MLS after the end of January, and 1 more listing was withdrawn, all 8 of these formerly active listings were vacant lots.  The only residential activity we can report for the past 7 days is a price reduction on 3 separate listings.
4 new listings showed up on our MLS this week, all 4 vacant lots which matches the number of new contracts.  Our total vacant land inventory is now down 8 to 78 vacant lots for sale, and our residential inventory remains unchanged at 32 properties for sale on all of Cape San Blas, Indian Pass and the CR/SR 30-A corridor.  That's all for this week's update, let me know anytime I can help – [email protected] or (850)899-8765.
Friends of St. Joe Bay Buffer Preserve are hosting the Winter Bay Day Celebration this Saturday the 4th at the Preserve Center on SR 30-A, featuring tours, a low country boil, silent auction and live music.  Have a nice weekend!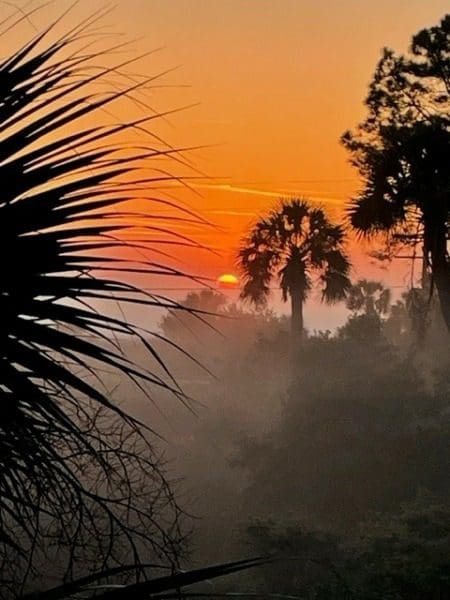 Foggy morning sunrise on Indian Pass